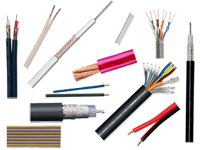 Cables
Cables are used to conduct electrical energy and are generally made of copper or aluminum.
There are 3 elements that make up:
Conductor: or element that led to current (copper or aluminum)
Isolation: Copper conducting metal so that current flowed just through it.
Preenchimento layer: insulation that surrounds the conductive elements.
Coverage: protects or isolates two conductors from external agents.
All rights reserved © 2018 Electrónica Embajadores
Cables - Online cable store - Buy electrical cables
Cables, Shopping Cables, Buying Cables, Cables Shop, Cables Seller, Buy Cables
Are you sure. This action can not be undone.