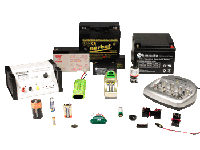 Batteries & Chargers
An electric battery is an instrument that consists of several electrochemical cells capable of converting the chemical energy it stores into an electric current.
There are different types of batteries, among which we can distinguish by their electrochemical characteristics between:
• Lead acid batteries
• Nickel-Cadmium (Ni-Cd) Batteries
• Nickel-iron (Ni-Fe) batteries
• Nickel Metal Hydride (Ni-MH) Batteries
• Lithium Polymer (LiPo) Batteries
• Lithium-ion (Li-ion) batteries
• Fuel cells
• High capacity condenser
This electrical energy can be accessed through two terminals of the battery, the positive pole and the negative pole.
A charger is an instrument used to supply an electrical current to a rechargeable cell or to a battery to restore its electrical charge.
All rights reserved © 2018 Electrónica Embajadores
batteries & chargers Shop
Batteries & Chargers, Shopping Batteries & Chargers, Buying Batteries & Chargers, Batteries & Chargers Shop, Batteries & Chargers Seller, Buy Batteries & Chargers