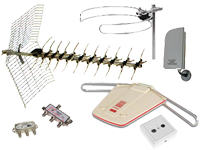 Antennas
Anantenna is a conductive mechanism that emits or receives electromagnetic waves. These waves are produced after a process of transformation of electrical energy.
There are many types of antennas, from those that expand radiated power to other devices to those that channel that power without intervening in other devices, for example.
The antennas vary according to their dimensions and the wavelength they receive or transmit, giving rise toelementary, resonant and directive antennas.
All rights reserved © 2018 Electrónica Embajadores
Antennas - Antennas Store , amplifiers and accessories online
Antennas, Shopping Antennas, Buying Antennas, Antennas Shop, Antennas Seller, Buy Antennas
Are you sure. This action can not be undone.