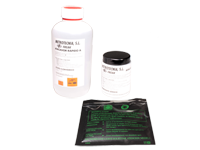 Printed Circuits

PCB Designing Products
Here you can find products to make your PCB at the best price
We must distinguish the products we need to make the different plates:
Blank plates. We only need Quick Attacker. In the past, either ferric chloride or a fast etchant was used. Nowadays, at least nationally, ferric chloride is no longer used and only the fast attacker is used. They are two liquids that when they come together, the oxidation-reduction reaction (redox) begins. An electron transfer reaction occurs as occurs in batteries and cells. The species that loses electrons is oxidized and the species that gains them is reduced. In this way, when introducing our plate into this mixture in action, the copper not covered with the emulsion or drawing oxidizes and passes into the liquid that forms the mixture, leaving only the drawing of our printed circuit on the substrate. There are different combinations of liquids to attack copper. Hydrochloric acid + Hydrogen peroxide, Hydrochloric acid + Sodium perborate, ...
Positive plates. We will need Revealer and Quick Attacker. As the photosensitive emulsions that you can find on the market are different, we recommend that you buy a developer compatible with the photosensitive plate. The developer can be stored indefinitely mixed with water, but shake before use since at rest it tends to fall to the bottom of the bottle or jar where it is stored as it is heavier than water and when the development is to be carried out the bottom is what falls first when pouring the liquid, so that we will have a too strong developer mixture that will eliminate the excess part and the one that is not excess. As far as the attacker is concerned, it is the same as we have spoken for the blank plates
There is the possibility of using isopropyl alcohol to clean the impurities that may be left behind by the fast starter. It is an alcohol with 99% purity.
Recently with the COVID-19 pandemic, the price of this product has increased significantly. Apart from its use in cleaning printed circuits, it is also used in fiber optics. We supply this product in 1 liter bottles and 5 liter jugs of isopropyl alcohol.
All rights reserved © 2018 Electrónica Embajadores
pcb designing products Shop
pcb designing products, Shopping pcb designing products, Buying pcb designing products, pcb designing products Shop, pcb designing products Seller, Buy pcb designing products, printed circuits, Shopping printed circuits, Buying printed circuits, printed circuits Shop, printed circuits Seller, Buy printed circuits
Are you sure. This action can not be undone.