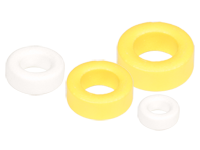 Coils, Core, Inductors, Selenoid
Toroids, Cores, Ferrites, Spools
The toroid is a hollow-shaped electronic device of revolution.
The core is a magnetized element that makes the electric current go through a conductive wire, which is the coil, transforming into a magnet.
Ferrites are ferromagnetic devices with a high storage capacity for magnetic fields.
A spool is a device on which other material is wound to be stored.
All rights reserved © 2018 Electrónica Embajadores
toroids, cores, ferrites, spools Shop
toroids, cores, ferrites, spools, Shopping toroids, cores, ferrites, spools, Buying toroids, cores, ferrites, spools, toroids, cores, ferrites, spools Shop, toroids, cores, ferrites, spools Seller, Buy toroids, cores, ferrites, spools, coils, core, inductors, selenoid, Shopping coils, core, inductors, selenoid, Buying coils, core, inductors, selenoid, coils, core, inductors, selenoid Shop, coils, core, inductors, selenoid Seller, Buy coils, core, inductors, selenoid