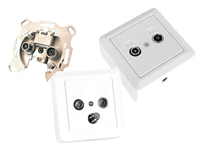 Antennas
Wall Antennas Bases
The antenna base allows you to connect television and satellite via a wall-mounted connector.
The television socket is an input mechanism that allows you to receive the TV signal through a coaxial cable or through an antenna previously received with an antenna.
In the case of the TV and SAT socket, it has a DTT signal receiving socket and another receiving socket for the satellite signal (for which a satellite dish must be installed). This decodes the signal received by our satellite dish.
All rights reserved © 2018 Electrónica Embajadores
wall antennas bases Store - Buy wall antennas bases Online
wall antennas bases, Shopping wall antennas bases, Buying wall antennas bases, wall antennas bases Shop, wall antennas bases Seller, Buy wall antennas bases, antennas, Shopping antennas, Buying antennas, antennas Shop, antennas Seller, Buy antennas