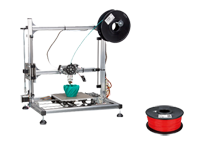 3D Printing
3D printing is based on the creation of an object in three dimensions through the superposition of successive layers of material through a simple assembly. These objects can be of different physical and mechanical properties.
This type of technology is used in sectors such as jewelry, footwear, industrial design, architecture, engineering and construction, automotive and aerospace, medical industries, education, geographic information systems, fashion, civil engineering ...
All rights reserved © 2018 Electrónica Embajadores
3d printing Shop - Buy 3d printing Online
3D Printing, Shopping 3D Printing, Buying 3D Printing, 3D Printing Shop, 3D Printing Seller, Buy 3D Printing
Are you sure. This action can not be undone.