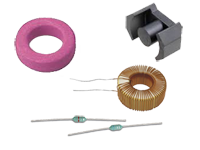 Coils, Core, Inductors, Selenoid
A coil or inductor is an electrical component made up of a wire wound in a spiral that allows energy to be stored in a magnetic field through self-induction.
The coil can be installed in an integrated circuit.
The core is part of the coil, such as the inductor winding, pole piece, auxiliary pole, and cylinder head.
The coil has many uses, among which can be highlighted: bells, vehicles, solenoid valves or relays.
All rights reserved © 2018 Electrónica Embajadores
coils, core, inductors, selenoid Shop - Buy coils, core, inductors, selenoid Online
Coils, Core, Inductors, Selenoid, Shopping Coils, Core, Inductors, Selenoid, Buying Coils, Core, Inductors, Selenoid, Coils, Core, Inductors, Selenoid Shop, Coils, Core, Inductors, Selenoid Seller, Buy Coils, Core, Inductors, Selenoid