24 V Linear Actuator - 200 mm
Ref. MMACC24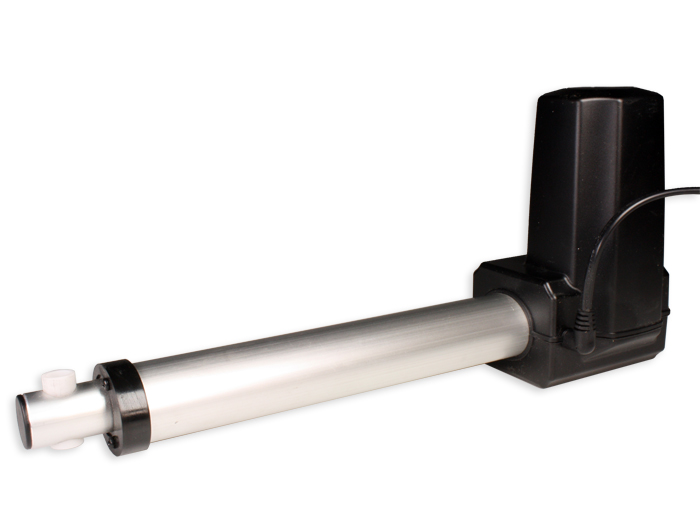 Available
Features
The entire housing is sealed to provide protection against water vapor and dust: the manufacturer provides a degree of protection IP44
They use an endless screw to move the bar from one side to the other along its displacement.
The worm ensures that the shaft will be in its position even when it is not driven.
Two safety limit switches stop the Motor at both ends of its range, while the diodes allow the direction to reverse after reaching a limit point.
Specifications
Temperature range: -25 º to 60 º C
Protection class: IP44
Power supply: 24 VDC
Stroke: 200 mm
Speed: 5 mm ± 2 mm / s
Internal microswitch
Steel gearing
Maximum tensile strength: 4000 N
Maximum pushing force: 6000 N
Maximum service life: 10,000 times
(For quantity order over 3 pìeces)

-8.00

%

107.69

€
(For quantity order over 5 pìeces)

-10.00

%

105.34

€
(For quantity order over 10 pìeces)

-12.00

%

103.00

€
Wikipedia
All rights reserved © 2018 Electrónica Embajadores
24 V Linear Actuator - 200 mm
electric linear actuators, Shopping electric linear actuators, Buying electric linear actuators, electric linear actuators Shop, electric linear actuators Seller, Buy electric linear actuators, motors, servo motors, …, Shopping motors, servo motors, …, Buying motors, servo motors, …, motors, servo motors, … Shop, motors, servo motors, … Seller, Buy motors, servo motors, …