HX711 Digital analog converter for load cells ("FUT3478")
HX711 Digital analog converter for load cells
Ref. LCINHX7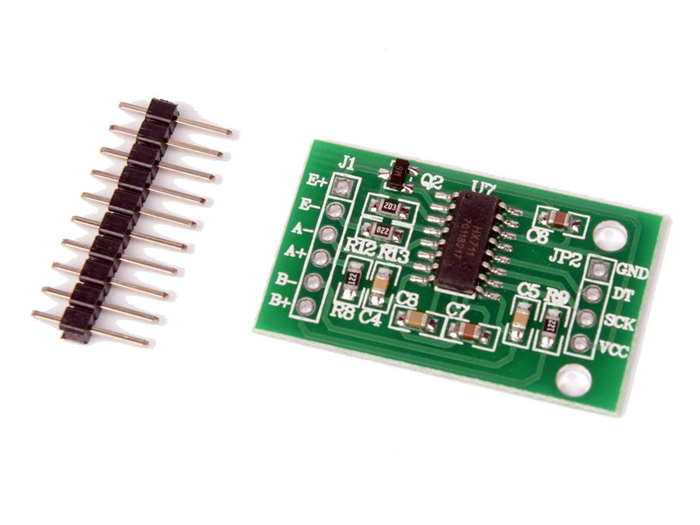 Available
Features
This module uses 1 high precision hx711 24 bit A / D converter. It is specially designed for the design of high precision electronic scales.
The input multiplexer selects one of the two channels: A or B towards the PGA programmable gain module of 128 times
The input circuit can be configured to provide a pressure bridge (such as pressure, weighing sensor mode).
High precision.
Low cost is an ideal sampling front-end module.
Specifications
Two selectable differential input channels
Active low-noise PGA on chip with selectable gain of 32. 64 and 128
On-chip power supply controller for load cells and ADC analog power supply
Oscillator on chip that does not require external component with optional external glass
Power on reset chip
Simple digital control and serial interface: controls controlled by pin. no programming required
Selectable output data rate of 10SPS or 80SPS
Simultaneous 50 and 60Hz supply rejection
Current consumption, including analog on-chip power supply regulator: Normal operation less than 1.5mA . Stand by less than 1uA
Operating voltage supply voltage range: 2.6 ~ 5.5V
Price


VAT NOT INCLUDED

2.64

€
SPECIAL PRICE

2.38€

(For quantity order over 5 pìeces)

SPECIAL PRICE

1.84€

(For quantity order over 20 pìeces)

Wikipedia

.

All rights reserved © 2018 Electrónica Embajadores

FUT3478, electronic card, electronic circuit, instrumentation modules, buy instrumentation modules, shop for instrumentation modules, electronic modules, buy electronic modules, shop for electronic modules

Cookies privacy

We use own and third party cookies to facilitate navigation. By continuing with navigation we understand that our Cookies policy.