Auto-Adhesive RGB LED Strip 1 m - 30 LEDs - CHLS81
Ref. ILJ5081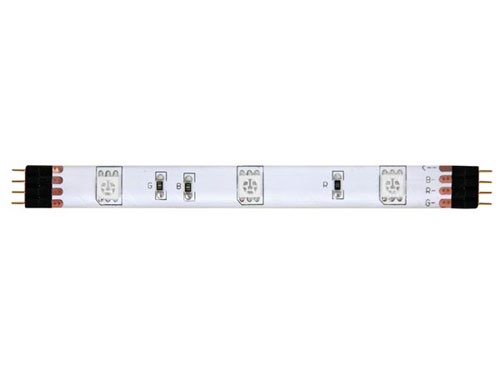 Available
Features
contains 30 high brightness LEDs (type 5050)
optional (not incl.):
RGB wire: CHLS84
0.5m LED strip: CHLS80
right-angle LED strip: CHLS82
T-shape LED strip: CHLS83
optional power supplies: LPS01012R,LPS02012R,LPS04512R,LPS06012R,LPS08012R,LPS10012R
weatherproof flexible PCB
for illuminated advertising and marking
self-adhesive
common anode:
black wire: 12VDC
red wire: ground
green wire: ground
blue wire: ground
optional controllers: K8088, VM146, VM151
optional DMX controller: VDPCRGB2
optional LED strip dimmer: VM161, VM162
Specifications
Color: red-green-blue
colour PCB: white
wavelength: red: 616~631nm, green: 525~535nm, blue: 465~475nm
intensity: red: 600mcd, green: 1150mcd, blue: 400mcd
power consumption: 6W (red 2.4W, blue 1.8W, green 1.8W)
Current: 500mA (red 200mA, blue 150mA, green 150mA)
viewing angle: 120°
dimensions: 1m x 10mm
LED spacing: 33mm
operating voltage: 12VDC
weight: 50g
Products that could interest you
Wikipedia
All rights reserved © 2018 Electrónica Embajadores
Auto-Adhesive RGB LED Strip 1 m - 30 LEDs - CHLS81 ("CHLS81")
CHLS81, led modules & strips, Shopping led modules & strips, Buying led modules & strips, led modules & strips Shop, led modules & strips Seller, Buy led modules & strips, lighting for show, Shopping lighting for show, Buying lighting for show, lighting for show Shop, lighting for show Seller, Buy lighting for show
Cookies privacy
We use own and third party cookies to facilitate navigation. By continuing with navigation we understand that our
Cookies policy
.