LED Dimmer 12 V..24 V - 5 A - LEDC23
Ref. ILBA004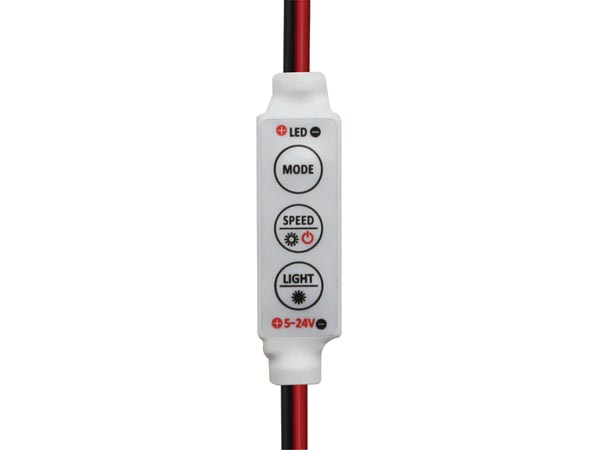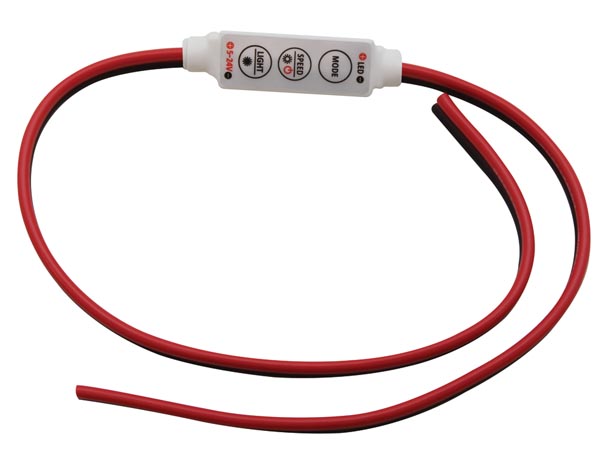 Available
Features
ideal for use with single colour LED strips. See our website.
3 functions:
switching: on-off
dimming: 9 levels
built-in stand-alone programs: fade and flashing animations
memory function: the Device remembers the last used function on power loss. On power restore, the last used function is automatically activated.
use only with a power supply of max. 60 W / 12 V or 120 W / 24 V
Specifications
power supply: 5 - 24 VDC
maximum load: 5 A
PWM frequency: ± 125 Hz
dimensions: 40 x 13 x 8 mm
cable length: 2 x 50 cm
weight: 15 g
caution: output Current of power supply must not exceed 5 A. Suitable power supplies: 60 W / 12 V or 120 W / 24 V.
Wikipedia
All rights reserved © 2018 Electrónica Embajadores
LED Dimmer 12 V..24 V - 5 A - LEDC23 ("LEDC23", "dimmer","dimer")
LEDC23, dimmer,dimer, dimmers, Shopping dimmers, Buying dimmers, dimmers Shop, dimmers Seller, Buy dimmers, lighting for show, Shopping lighting for show, Buying lighting for show, lighting for show Shop, lighting for show Seller, Buy lighting for show
Cookies privacy
We use own and third party cookies to facilitate navigation. By continuing with navigation we understand that our
Cookies policy
.