PET-G Filament - 1.75 mm - Colour Black - 1 Kg - 3DP-PETG1.75-01-BK
Ref. I3COGNE1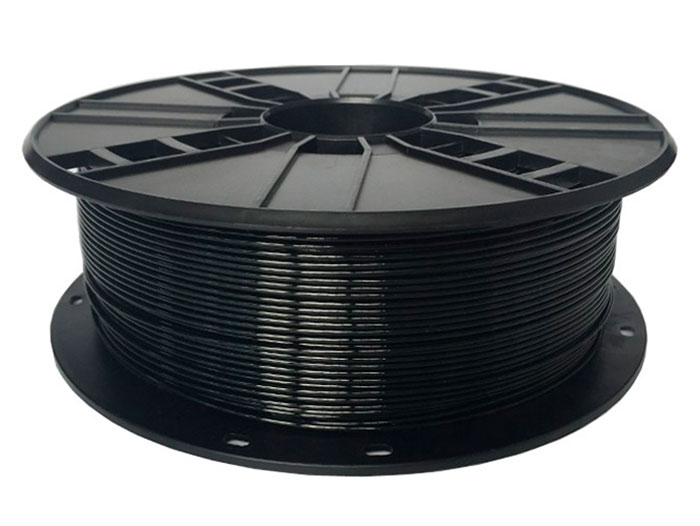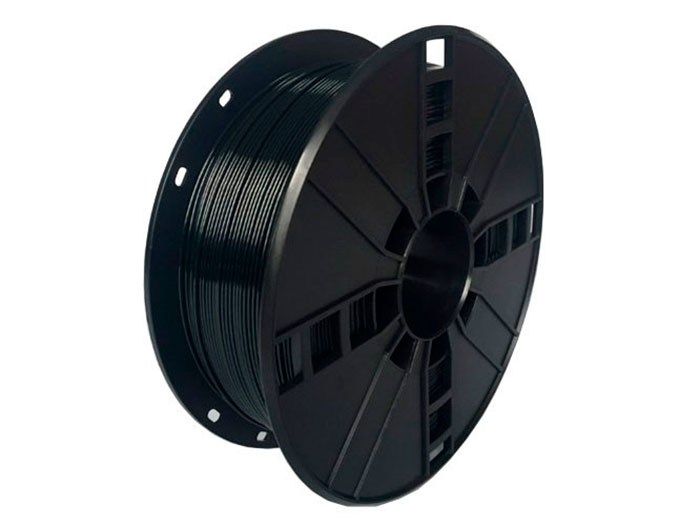 Available
Features
PET-G is a strong, high clarity, odour neutral and easy to print filament for 3D printing. These characteristics, together with the high impact strength, excellent flexibility and practically no shrinkage make PET-G an excellent material which combines the advantages of both PLA and ABS. The filament is hydrophobic and therefore does not absorb water. In short, PET-G has many great features and is the perfect addition to any filament assortment.
Versatile & easy to use
Polyethylene terephthalate (PETG) is an amorphous thermoplastic of the polyester family
Perfect combination of clarity and strength. The clarity of PETG approaches that of Acrylic and impact resistance is close to Polycarbonate
Easy to print with a variety of 3D printers
Specifications
Material: PETG, 1.75 mm in diameter
Color: white
Weight: 1 Kg/reel (2.2 lbs)
Density at 240°C: 1.27 g/cm3
Melt flow index at g/10 min, 200°C/5 Kg: 20
Melt point: 220-260°C
Heat-Deflection-Temperature at 0.455 Mpa: 60-80°C
Yield Strength at 5 mm/min: 50 Mpa
Impact Strength: 8.7 KJ/m2
Ensile break: 120%
Diameter: 1.75 ± 0.05 mm
Spool dimensions: 200 mm diameter x 67 mm height x 53 mm center hole
(For quantity order over 3 pìeces)

-9.99

%

25.65

€
(For quantity order over 10 pìeces)

-15.05

%

24.21

€
Wikipedia
All rights reserved © 2018 Electrónica Embajadores
PET-G Filament - 1.75 mm - Colour Black - 1 Kg - 3DP-PETG1.75-01-BK ("3DP-PETG1.75-01-BK", "PETG","3DP-PETG1.75-01-BK")
3DP-PETG1.75-01-BK, PETG,3DP-PETG1.75-01-BK, 3d printer filaments, Shopping 3d printer filaments, Buying 3d printer filaments, 3d printer filaments Shop, 3d printer filaments Seller, Buy 3d printer filaments, 3d printing, Shopping 3d printing, Buying 3d printing, 3d printing Shop, 3d printing Seller, Buy 3d printing
Cookies privacy
We use own and third party cookies to facilitate navigation. By continuing with navigation we understand that our
COVID-19
WE OPEN THE PHYSICAL STORE ON MAY 11
Phase 0: We have decided to reopen taking all security measures. The customer service hours will be normal. You can check here.
The maximum capacity in the premises is 6 people, groups of 2 or more people are not allowed.
A maximum of 3 public service posts are set, with 2 m of separation between them and there are separation with the public, an ozone generation team, all our operators will wear safety PPE and the use of hydroalcoholic gel is offered at the entrance of the premises. It is recommended that they come with mask protection and gloves. Self-service is not allowed: NO SELF-SERVICE

Cookies policy.