Royakit ROYAPOX 5050 CD - Epoxy Resin to Encapsulate or Fill Electronic Components
Ref. HRE1PX0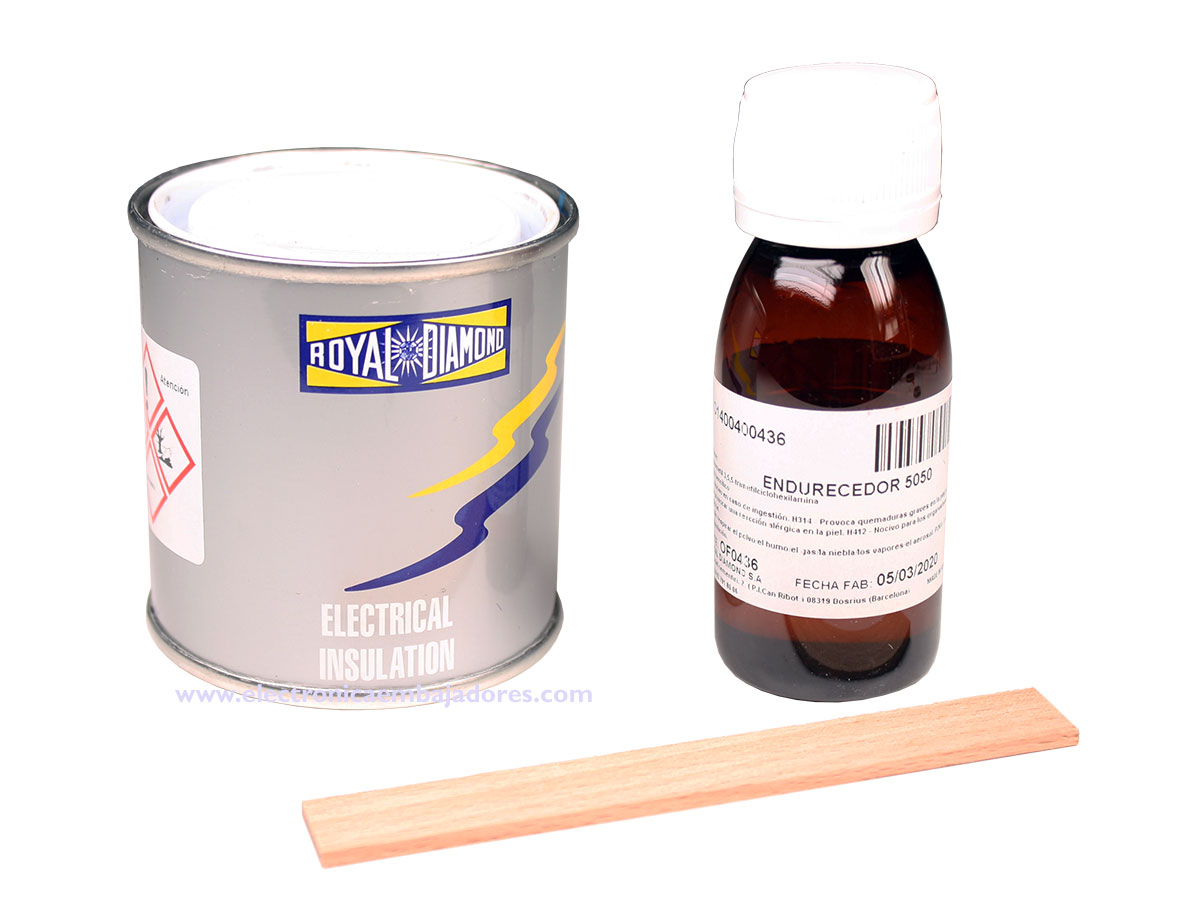 Available
Features
ROYAPOX 5050 CD is an epoxy resin with mineral filler and without solvents. It comes in the form of two components

and once polymerized at room temperature, forms a dough, hard and somewhat flexible. It has good moisture resistance qualities and good mechanical and dielectric properties. ROYAPOX 5050 CD resin retains its properties at temperatures between –25ºC and 125ºC. The standard color is Cream White, but on demand it can be supplied in other colors (Red, Black, Green, Blue, Gray and Yellow). electrical and electronic, which

require protection against moisture and temperature changes.

PRESENTATION

The resin is supplied in two separate and pre-dosed components: ROYAPOX 5050 CD and ENDURECEDOR 5050.

The mixing ratio by weight (Resin / Hardener ) is 100/20. The sealed and sealed containers must be stored at room temperature (15-25 ° C). The lifetime of the two components separately and at temperatures not exceeding 20 ° C, is one year. Resin

"crystallized" can return to the original state, heating at 80 ° C without negative effects on its quality.
Specifications
Epoxy resin with hardener • Contains:
200 gr. Resin
40 gr. Hardener
Expires per year
Color: blue
Wikipedia
All rights reserved © 2018 Electrónica Embajadores
Royakit ROYAPOX 5050 CD - Epoxy Resin to Encapsulate or Fill Electronic Components ("ROYAKIT")
ROYAKIT, adhesives, buy adhesives, shop for adhesives, tool instrument, buy tool instrument, shop for tool instrument
Cookies privacy
We use own and third party cookies to facilitate navigation. By continuing with navigation we understand that our
COVID-19
WE OPEN THE PHYSICAL STORE ON MAY 11
Phase 0: We have decided to reopen taking all security measures. The customer service hours will be normal. You can check here.
The maximum capacity in the premises is 6 people, groups of 2 or more people are not allowed.
A maximum of 3 public service posts are set, with 2 m of separation between them and there are separation with the public, an ozone generation team, all our operators will wear safety PPE and the use of hydroalcoholic gel is offered at the entrance of the premises. It is recommended that they come with mask protection and gloves. Self-service is not allowed: NO SELF-SERVICE

Cookies policy.