Adafruit Flex Perma-Proto - Half-size - Breadboard Flexible - 1518
Ref. CN21P04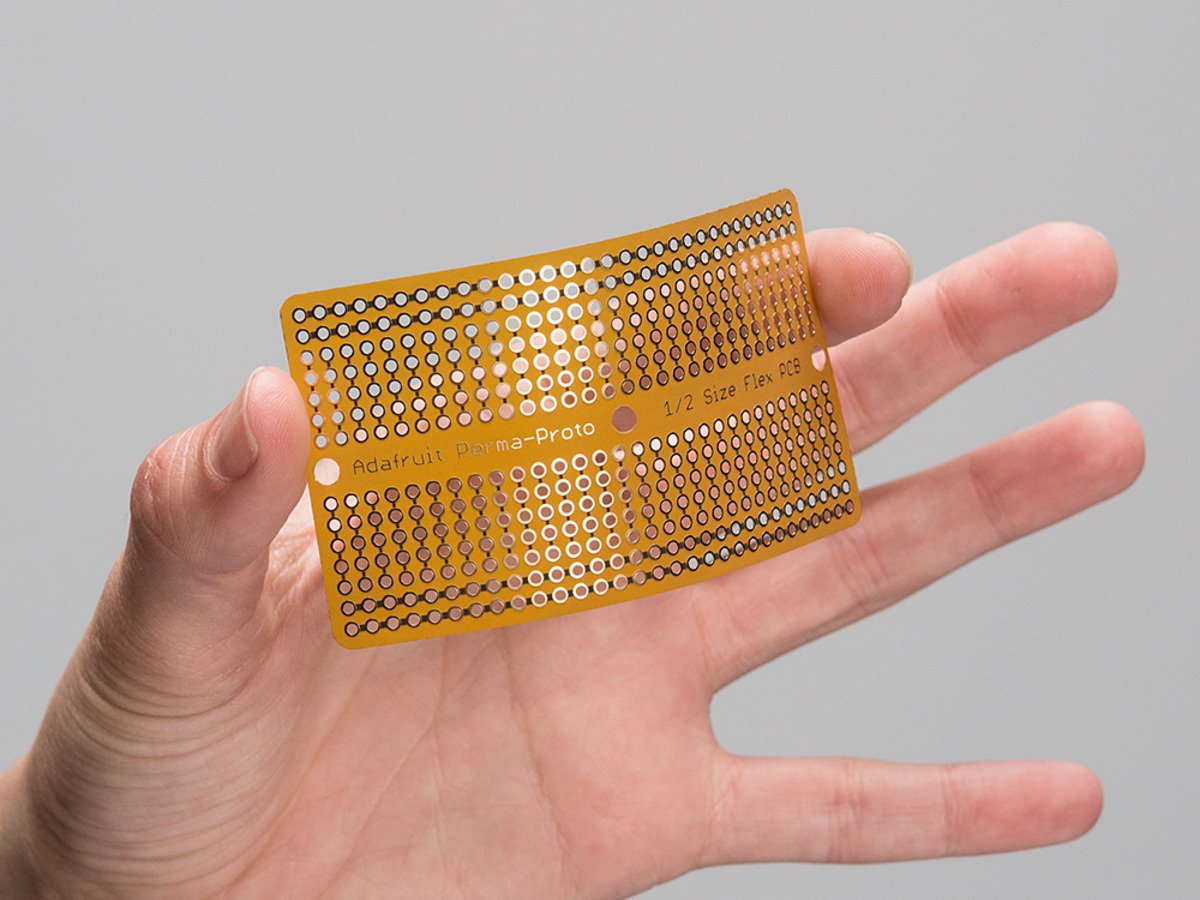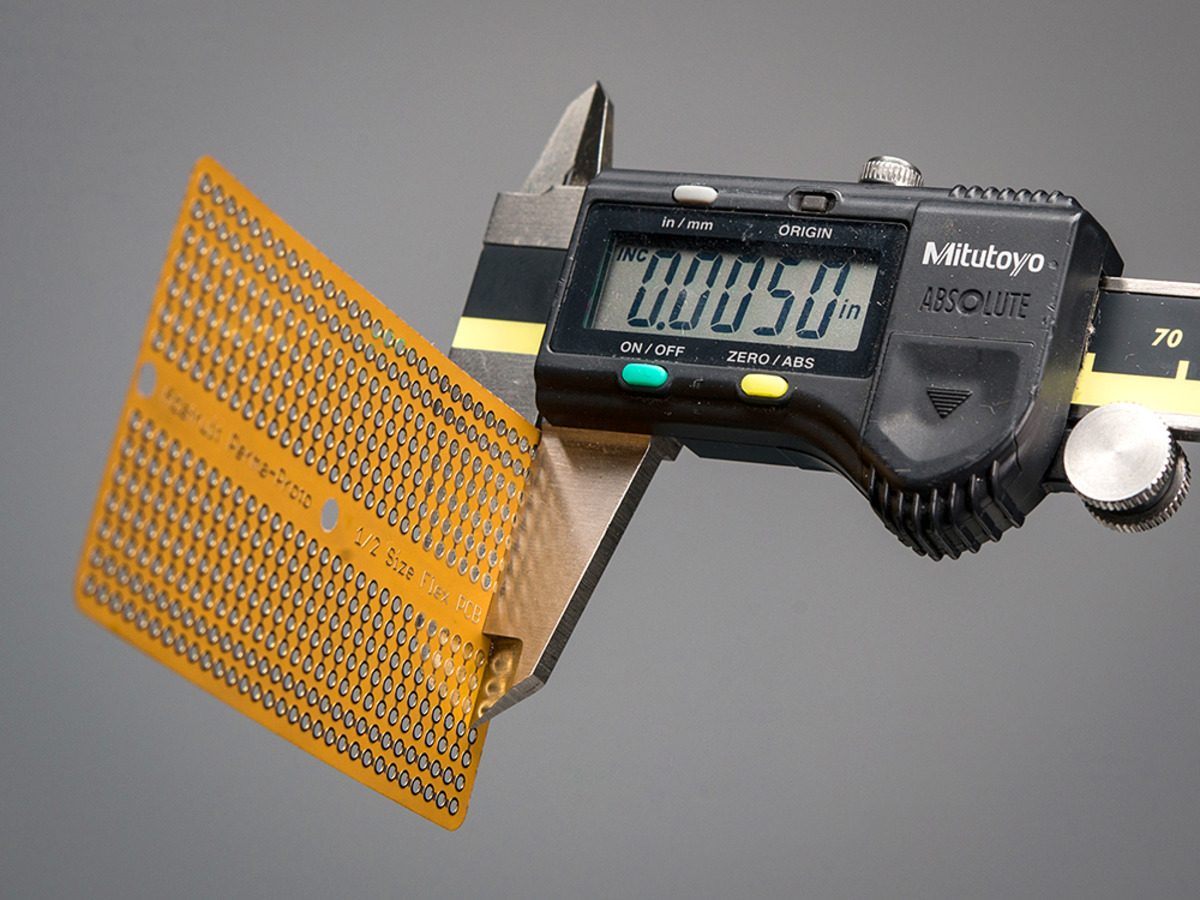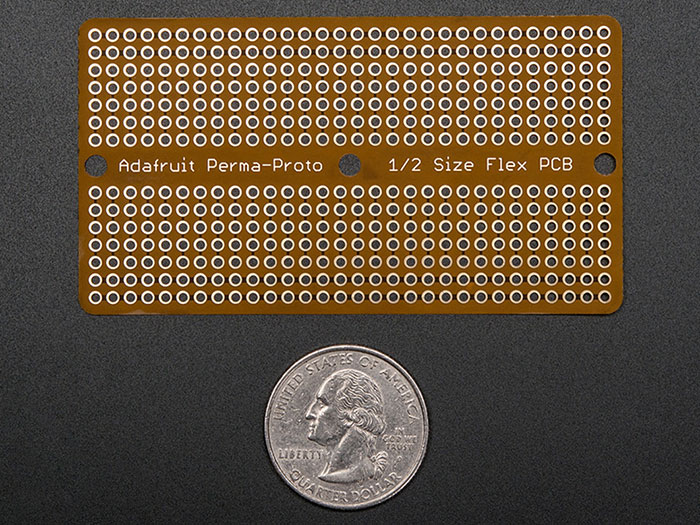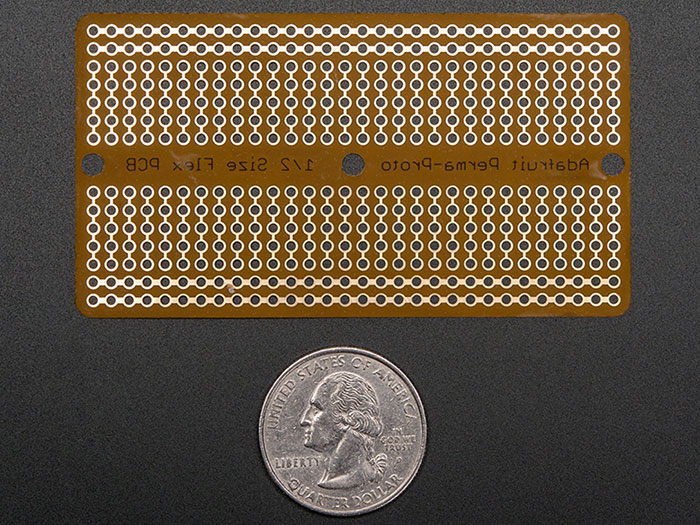 Available
Features
Make your next project super flexible with a prototype table that can be twisted and bent. We took our lovely classic perma-proto design and made it with an incredibly thin polyamide film. It is extremely flexible, and you can easily cut it with scissors. It has a radius of curvature of 1 cm or more (you can also fold it but that could break a trace if it does) and you can weld any component to the pads. Wearables sensors? Tubones-tronics? We have no idea what people are going to use it for, but we know it's going to be amazing.

The PCB is really flexible, so you may have to admit it if you solder electronic components, it will not stay "straight" on its own unless you are provided with some kind of physical support.
Specifications
30 rows of 5-hole double rows

Dimensions: 78.88 mm / 3.1" x 43.26 mm / 1.7"

Drill hole: 1.2 mm / 0.047 "

1.9" Mounting holes: 2 x 0.125 "or 3.2 mm

Weight: 0.65g
(For quantity order over 3 pìeces)

-5.05

%

9.31

€
(For quantity order over 10 pìeces)

-10.11

%

8.81

€
Products that could interest you
Wikipedia
All rights reserved © 2018 Electrónica Embajadores
Adafruit Flex Perma-Proto - Half-size - Breadboard Flexible - 1518 ("1518", "PRT-12070","bakelita","pcb")
1518, PRT-12070,bakelita,pcb, veroboard, stripboard, pcb, electronic card, electronic board, breadboard, protoboard, bakelite stripboards, Shopping bakelite stripboards, Buying bakelite stripboards, bakelite stripboards Shop, bakelite stripboards Seller, Buy bakelite stripboards, printed circuits, Shopping printed circuits, Buying printed circuits, printed circuits Shop, printed circuits Seller, Buy printed circuits
Cookies privacy
We use own and third party cookies to facilitate navigation. By continuing with navigation we understand that our
Cookies policy
.