mini-DisplayPort (miniDP) to DVI, HDMI, VGA Converter - 10.16.3302.BK
Ref. CM31050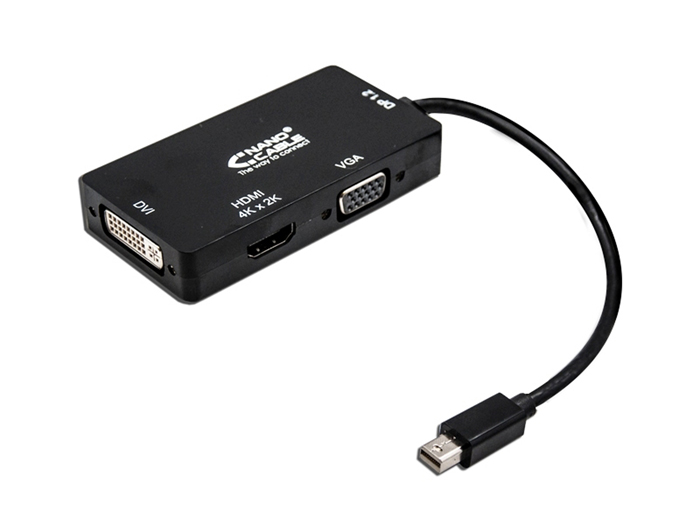 Available
Features
Allows the user to connect a computer equipped with a mini Displayport to a VGA, DVI or HDMI screen.

Note: The video adapter supports only one video output at a time. If several connections are made, only one of the outputs will work.

It does not require aditional software or drivers, a completely plug and play solution.
Specifications
Manufacturer: NANOCABLE
Model: 10.16.3302-BK
Features:
Length: 15 cm
Color: black
Regulations: RoHS
Performance test: 100% tested
Contents : 1 x Mini DisplayPort for VGA / DVI / HDMI Converter, 3 in 1, DP 1.2 / M-VGA / H-DVI / H-HDMI 4K, Black, 15 cm
(For quantity order over 5 pìeces)

-10.02

%

27.44

€
(For quantity order over 10 pìeces)

-15.10

%

25.89

€
Wikipedia
All rights reserved © 2018 Electrónica Embajadores
mini-DisplayPort (miniDP) to DVI, HDMI, VGA Converter - 10.16.3302.BK ("10.16.3302.BK")
10.16.3302.BK, cctv, hd cctv, hdtvi cctv, signal converters, Shopping signal converters, Buying signal converters, signal converters Shop, signal converters Seller, Buy signal converters, cameras, cctv & accessories, Shopping cameras, cctv & accessories, Buying cameras, cctv & accessories, cameras, cctv & accessories Shop, cameras, cctv & accessories Seller, Buy cameras, cctv & accessories
Cookies privacy
We use own and third party cookies to facilitate navigation. By continuing with navigation we understand that our
COVID-19
WE OPEN THE PHYSICAL STORE ON MAY 11
Phase 0: We have decided to reopen taking all security measures. The customer service hours will be normal. You can check here.
The maximum capacity in the premises is 6 people, groups of 2 or more people are not allowed.
A maximum of 3 public service posts are set, with 2 m of separation between them and there are separation with the public, an ozone generation team, all our operators will wear safety PPE and the use of hydroalcoholic gel is offered at the entrance of the premises. It is recommended that they come with mask protection and gloves. Self-service is not allowed: NO SELF-SERVICE

Cookies policy.