Velleman - Composite Video Converter to VGA Video - VASMON3
Ref. CM31002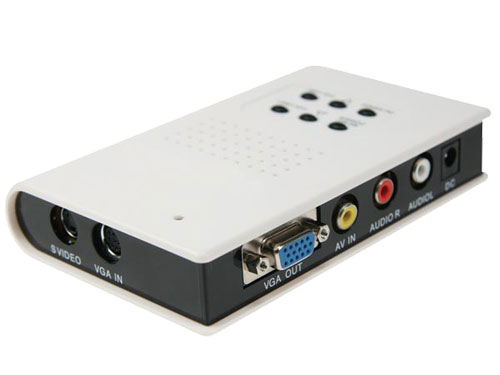 Available
Features
plug & play, no software or driver required
supports full function OSD control
compatible for multi-signal inputs: video, S-video, PC (bypass)
50 Hz to 60 Hz frame rate conversion
adjustable brightness, contrast and saturation
hue control, video standard
3D motion-adaptive interfile de-interlacing
system requirements:
VASE compatible VGA monitor, CRT and TFT/LCD, projector and DLP with VGA input port
video output Device
contains:
1 x 7.5 V/1 A power adapter
1 x RCA video cable (1.2 m)
1 x 3.5 mm audio cable (1.2 m)
1 x VGA cable (1 m)
Specifications
formats supported:
PAL
NTSC 4.43 (50 Hz)
PAL N (3.58 MHz)
NTSC (3.58 MHz) & SECAM NTSC
PAL 4.43 (60 Hz)
PAL M (3.58 MHz)
NTSC-JAPAN
resolutions supported:
640 x 480
800 x 600
1024 x 768
1440 x 900
1280 x 1024 @ 60 Hz
dimensions: 130 x 85 x 25 mm
weight: 145 g
Wikipedia
All rights reserved © 2018 Electrónica Embajadores
Velleman - Composite Video Converter to VGA Video - VASMON3 ("VASMON3")
VASMON3, cctv, hd cctv, hdtvi cctv, signal converters, Shopping signal converters, Buying signal converters, signal converters Shop, signal converters Seller, Buy signal converters, cameras, cctv & accessories, Shopping cameras, cctv & accessories, Buying cameras, cctv & accessories, cameras, cctv & accessories Shop, cameras, cctv & accessories Seller, Buy cameras, cctv & accessories
Cookies privacy
We use own and third party cookies to facilitate navigation. By continuing with navigation we understand that our
COVID-19
WE OPEN THE PHYSICAL STORE ON MAY 11
Phase 0: We have decided to reopen taking all security measures. The customer service hours will be normal. You can check here.
The maximum capacity in the premises is 6 people, groups of 2 or more people are not allowed.
A maximum of 3 public service posts are set, with 2 m of separation between them and there are separation with the public, an ozone generation team, all our operators will wear safety PPE and the use of hydroalcoholic gel is offered at the entrance of the premises. It is recommended that they come with mask protection and gloves. Self-service is not allowed: NO SELF-SERVICE

Cookies policy.