Velleman AC38 - 6 V, 12 V - 3800 mA Lead Acid Battery Charger
Ref. BA2A501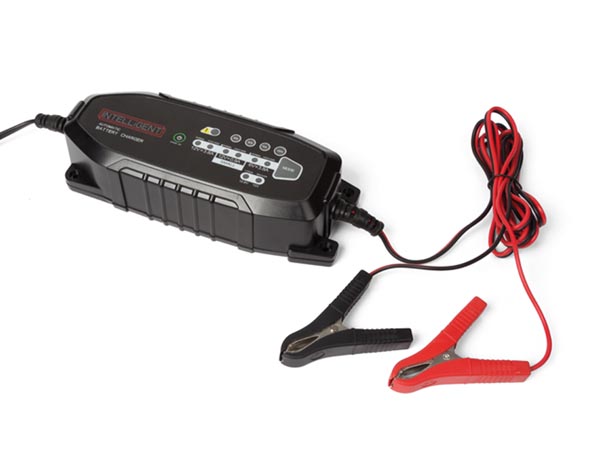 Available
Features
AC38 is a 6 V / 12 V dual function charger for charging LiFePO4 and Lead Acid (Wet, MF, VRLA, AGM & GEL) batteries for different vehicles. The intelligent design protects the charger and battery even if users have chosen the wrong battery type. With its automatic switch-mode charger, users can simply retain their batteries to the original level, recover slightly sulfated batteries and increase battery life.
protections:

short circuit
overload
wrong polarity
reverse battery
safety timer

with LED indication
Specifications
rated input voltage: 220-240 VAC
frequency: 50 Hz
rated Current: 0,6A
rated output Current: 3.8 A
IP rating: IP65
dimensions: 211.3 x 84.4 x 49 mm
weight: 775 g
charging voltage:
lead acid: 7.3 / 14.4 VDC
cold/AGM: 7.4 / 14.7 VDC
LiFePO4: 12.8 V / 4 cells
charging Current: 6 V / 12 V / LiFePO4
small: 0.9 A
normal: 3.8 A
(For quantity order over 3 pìeces)

-10.01

%

43.65

€
(For quantity order over 10 pìeces)

-15.03

%

41.21

€
Wikipedia
All rights reserved © 2018 Electrónica Embajadores
Velleman AC38 - 6 V, 12 V - 3800 mA Lead Acid Battery Charger
battery, charger, accumulators, battery pack, battery chargers, Shopping battery chargers, Buying battery chargers, battery chargers Shop, battery chargers Seller, Buy battery chargers, batteries & chargers, Shopping batteries & chargers, Buying batteries & chargers, batteries & chargers Shop, batteries & chargers Seller, Buy batteries & chargers
Cookies privacy
We use own and third party cookies to facilitate navigation. By continuing with navigation we understand that our
Cookies policy
.