BMS - Protective Charger Module for 4 Lithium Ion 18650 Batteries - 14,8 V - 30 A
Ref. BA15BM4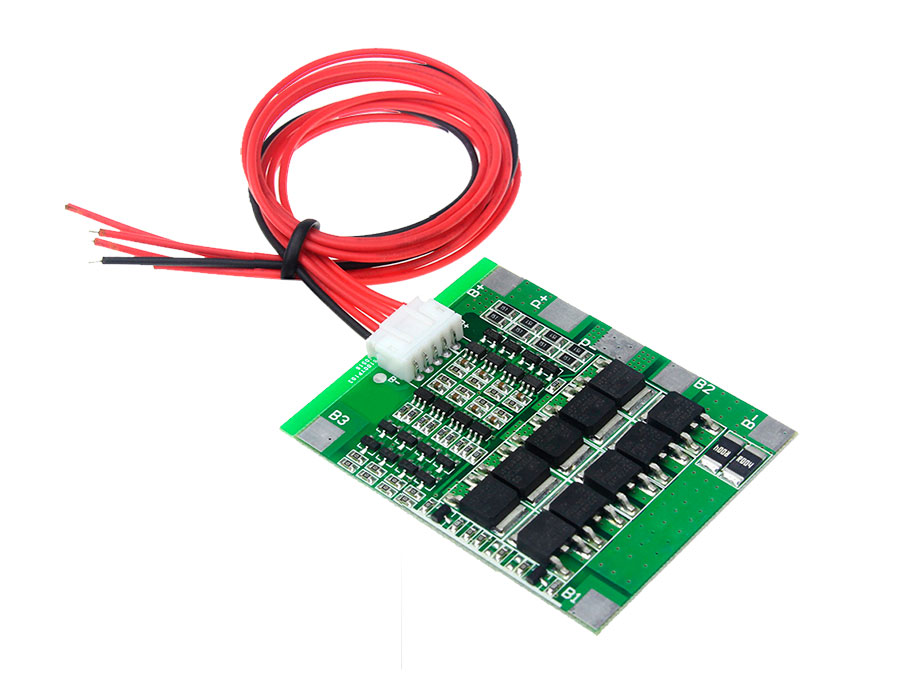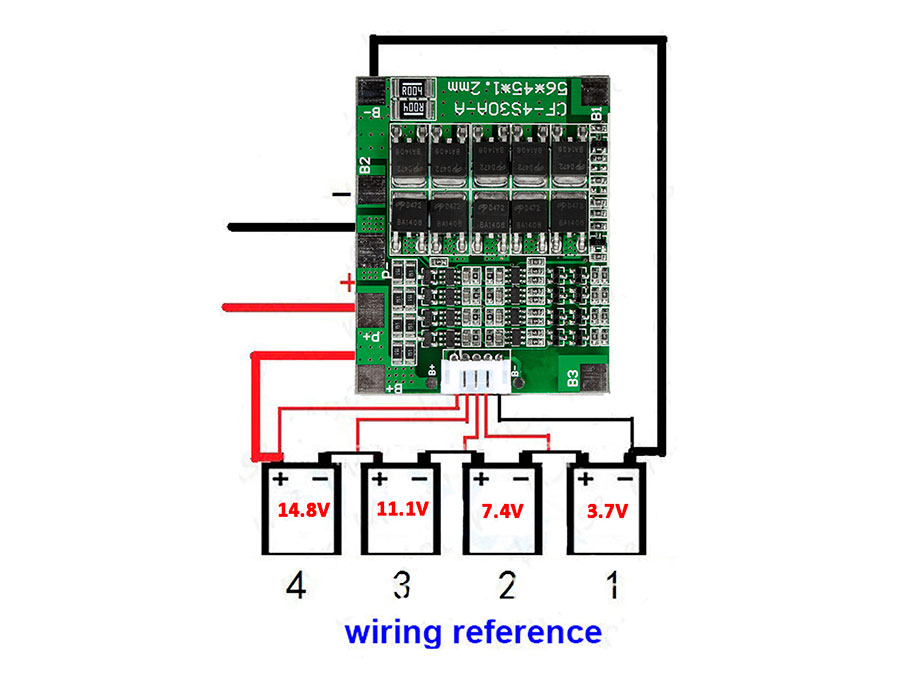 Sold out. Soon it will be available again.
Features
This protective battery charger module with BMS (Battery Management or Administration System allows the simultaneous charging of 4 lithium batteries type 18650 or similar (electrically speaking).
Its easy implementation, allows the user to manage the charge and discharge of its battery system, which may be part of an electrical or electronic project. It incorporates a protection system for overcharging, over-discharge and short-circuit
Specifications
Overload detection voltage: 4.28+ 0.05V
Charge overvoltage: 4.095-4.195V
Discharge overvoltage: 2.55 ± 0.08
Overload detection delay time 0.1s
Temperature range -30-80
Short circuit detection delay time: 100 ms
Over current detection delay time: 500 ms
Balanced current: 60mA
Working current: 30A
Over current: 60A
Short circuit protection function : there is, disconnecting the load can recover itself
Dimensions: 45x56mm
(For quantity order over 3 pìeces)

-14.96

%

7.61

€
(For quantity order over 5 pìeces)

-29.97

%

6.27

€
Wikipedia
All rights reserved © 2018 Electrónica Embajadores
BMS - Protective Charger Module for 4 Lithium Ion 18650 Batteries - 14,8 V - 30 A ("YXK143","4S 30A 14.8V Li-ion Lithium 18650")
YXK143,4S 30A 14.8V Li-ion Lithium 18650, battery, charger, accumulators, battery pack, lithium-ion batteries, Shopping lithium-ion batteries, Buying lithium-ion batteries, lithium-ion batteries Shop, lithium-ion batteries Seller, Buy lithium-ion batteries, batteries & chargers, Shopping batteries & chargers, Buying batteries & chargers, batteries & chargers Shop, batteries & chargers Seller, Buy batteries & chargers
Cookies privacy
We use own and third party cookies to facilitate navigation. By continuing with navigation we understand that our
Cookies policy
.