Active DTT Antenna
Ref. AT41007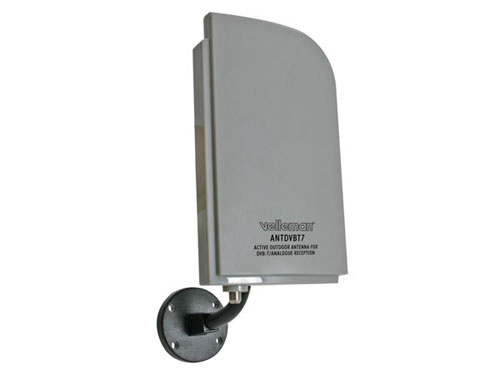 Available
Features
it is possible to install the antenna horizontally or vertically
wall-mounted or fixed to a mast
also suitable for receiving analogue and DBA radio signals
easy to install and use
low noise amplifier
high directivity
built-in FM filter
built-in VHF and UHF filters
waterproof and UV resistant case
compact and elegant design
includes: mains adapter, 3m cable, mounting accessories, power injector
Specifications
power:
analog signal reception: 9VDC (incl. Network adapter)
frequency:
amplification: 20 dB ± 3 dB
max power: 95 dBµV
impedance: 75 ohm
consumption : DC 0.6 W / AC 3 W (mains adapter)
weight: 0.25 Kg
dimensions: 190 x 110 x 65 mm mains, 3 m cable, mounting accessories, power injector
Wikipedia
All rights reserved © 2018 Electrónica Embajadores
Active DTT Antenna
tv antenna, television antenna, tv aerial, television aerial, antenna, tv outdoor antennas, Shopping tv outdoor antennas, Buying tv outdoor antennas, tv outdoor antennas Shop, tv outdoor antennas Seller, Buy tv outdoor antennas, antennas, Shopping antennas, Buying antennas, antennas Shop, antennas Seller, Buy antennas
Cookies privacy
We use own and third party cookies to facilitate navigation. By continuing with navigation we understand that our
COVID-19
WE OPEN THE PHYSICAL STORE ON MAY 11
Phase 0: We have decided to reopen taking all security measures. The customer service hours will be normal. You can check here.
The maximum capacity in the premises is 6 people, groups of 2 or more people are not allowed.
A maximum of 3 public service posts are set, with 2 m of separation between them and there are separation with the public, an ozone generation team, all our operators will wear safety PPE and the use of hydroalcoholic gel is offered at the entrance of the premises. It is recommended that they come with mask protection and gloves. Self-service is not allowed: NO SELF-SERVICE

Cookies policy.