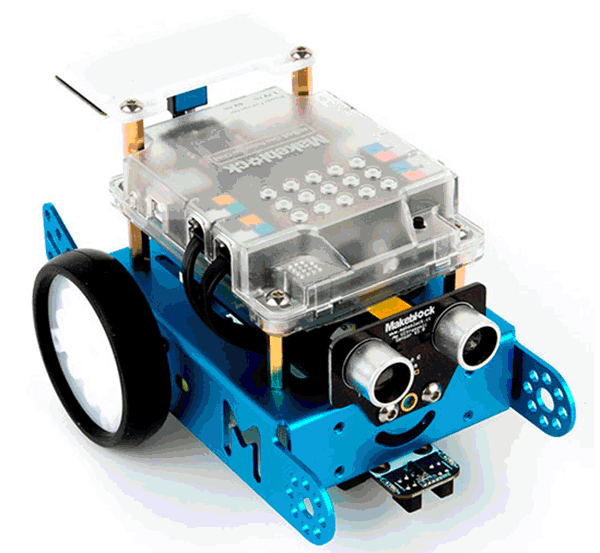 The Explorer Kit includes the S version of the mBot. In addition to the standard features already incorporated in the mBot, this new version includes an LED matrix, easily customizable through the programming of the LEDs that compose it
What is mbot?
Mbot is a solution designed to introduce children to the world of robotics and electronics based on Arduino Uno
The mechanical body of the Mbot is compatible with the Makeblock platform and most of the Lego parts, while its electronic components are developed based on the Arduino open source ecosystem. This ensures that the Mbot has infinite extensibility, using the mechanical parts and electronic modules that it needs to make it the "dream robot"
The robot is initially programmed so that you can use it from the beginning with the infrared control (included), activate the line-follow mode or the way to avoid obstacles, but you can also control it from the mobile App via bluetooth

It does not need wiring, thanks to its RJ25 connectors you can use its electronics easily
Graphical programming environment based on Scratch 2.0
Arduino compatible
Extension packs available
New version that introduces the following improvements:
Led matrix
Protective housing for the plate
Longer buttons for use with or without the case
Lithium battery holder
New swivel wheel
Infrared remote control
All rights reserved © 2018 Electrónica Embajadores
MAKEBLOCK mBOT EXPLORER KIT
Electronics, Electronics store, Electronics Store Online, Online Electronics, Electronic Online Store, Arduino, Arduino Sale, Sale Shields, Shields, Electronic Components, Electronic Components Store, Sale Electronic Components
Cookies privacy
We use own and third party cookies to facilitate navigation. By continuing with navigation we understand that our
COVID-19
WE OPEN THE PHYSICAL STORE ON MAY 11
Phase 0: We have decided to reopen taking all security measures. The customer service hours will be normal. You can check here.
The maximum capacity in the premises is 6 people, groups of 2 or more people are not allowed.
A maximum of 3 public service posts are set, with 2 m of separation between them and there are separation with the public, an ozone generation team, all our operators will wear safety PPE and the use of hydroalcoholic gel is offered at the entrance of the premises. It is recommended that they come with mask protection and gloves. Self-service is not allowed: NO SELF-SERVICE

Cookies policy.