Embedded light with motion detector - white
Ref. SG51500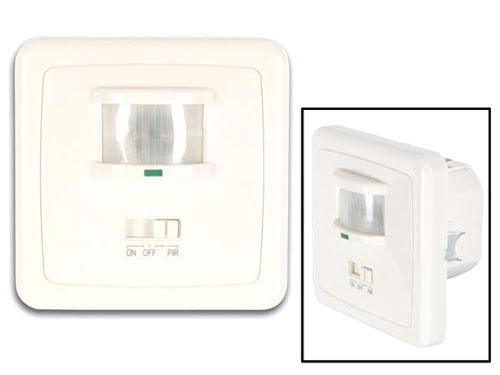 Available
Features
multifunctional: on/off light control & PIR
wide infrared detection range
practical: works under various levels of ambient light, activation duration and infrared detection range can be adjusted
easy installation
detection indication: LED
only suitable for light bulbs
Specifications
switch type: TRIAC
power supply: 220 to 240 Vac / 50 - 60 Hz
detection range: 12 m max. (adjustable)
detection angle: > 140°
light control: 3 to 1000 lx (adjustable)
activation: 5 s to 420 s (adjustable)
TRIAC output:

min. load: 15 W
rated load: 500 W (220-240 Vac)

installation height: 0.4 to 1.8 m
power consumption: 0.45 W (0.1 W standby)
motion speed detection range: 0.6 m/s to 1.5 m/s
working temperature: -20 °C to +40 °C
working humidity: < 93% RH
Price


VAT NOT INCLUDED

14.79

€
SPECIAL PRICE

13.31€

(For quantity order over 25 pìeces)

Wikipedia

.

All rights reserved © 2018 Electrónica Embajadores

PIR500, motion detectors, buy motion detectors, shop for motion detectors, security, buy security, shop for security

Cookies privacy

We use own and third party cookies to facilitate navigation. By continuing with navigation we understand that our Cookies policy.