Makeblock Codey Rocky - Educational Robot - P1030069
Ref. ROBTMK4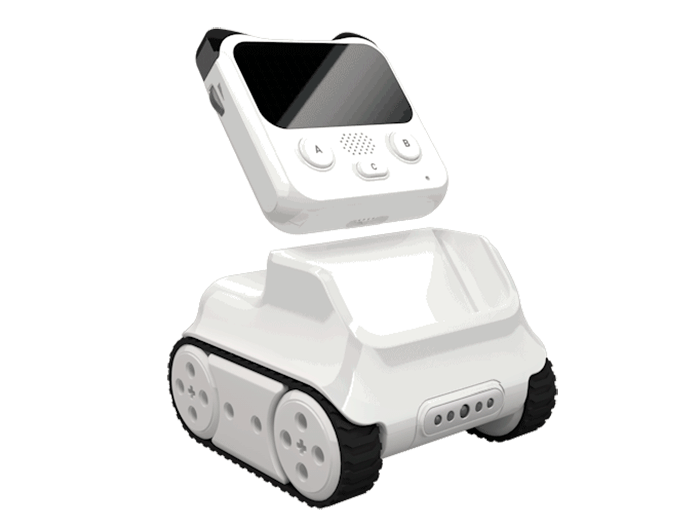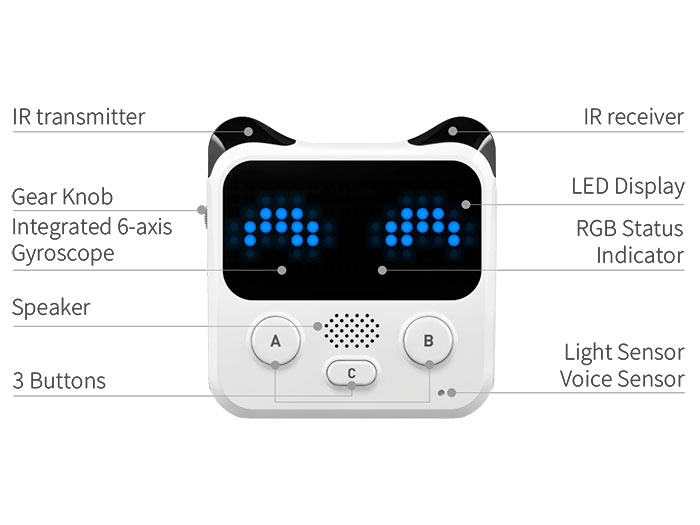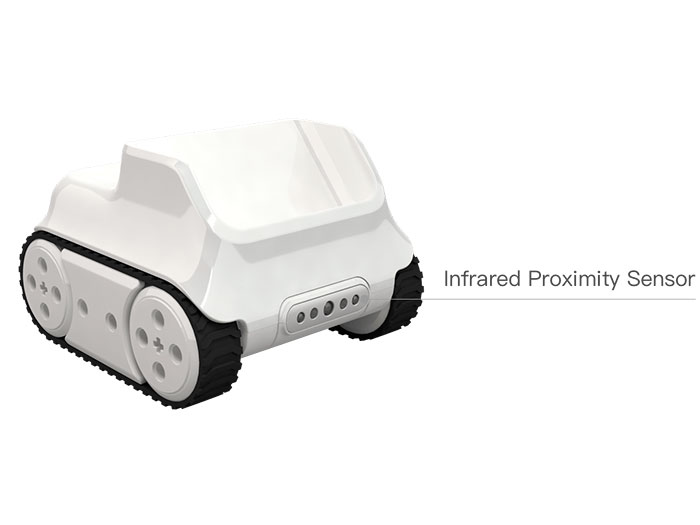 Product available with delivery time exceeding the standard.
Features
2 in 1 – an Innovative Design in Structure
Brainy Codey

Integrated with over 10 programmable electronic modules, Codey Rocky has more features than it meets the eye.

Agile Rocky

Not only will Codey Rocky swirl and follow lines but also go around obstacles, making creation so much more fun.
Software Learning + Hardware Creation — the fun way to learn about programming.
Harnessing the power of mBlock software, Codey Rocky allows children to create dot matrix animations, design games and realize AI and IoT applications. By programming every move made by the robot, not only will children understand each command intuitively, but they will also find it a rewarding experience through hardware creation.
Programming as simple as playing blocks
Hot on the heels of Scratch3.0?, mBlock features many powerful functions and promises truckload of experience; programming is as simple as assembling building blocks – anyone who reads can learn to programme. We also structure the learning process in a series of games of different levels, making programming full of fun while children progress through these games.
Over 10 electronic modules to support your children in turning their imagination into reality
Equipped with over 10 electronic modules, including a sound sensor, a light sensor and an LED dot matrix display, Codey Rocky is a treasure trove of fun that plays music, follows light, mimics facial expressions and many more with easy coding, empowering children with the skills to turn their imagination into reality and experience the delight out of their achievement.
Get to AI — your key to unlocking the age of cutting-edge technologies
mBlock software supports AI? functionalities including image and voice recognition as well as deep learning. In conjunction with Codey Rocky, mBlock allows children to come into grips with cutting-edge technologies for the very first time. Through games and application, they will be able to learn about the logical thinking and principles behind AI as well as how to interact with machines, which are all essential as they prepare for the arrival of the age of AI. (AI?: Artificial Intelligence
Specifications
IR Transmitter/Receiver: makes communication with multiple robots possible and allows infrared remote control of electrical appliances.
Gear Knob: adjusts volume and variables
LED Display: shows various patterns and RGB lighting effects.
6-axis Gyroscope: detects tilts, shakes and turn angles, useful in designing somatosensory tricks which require tilts and shakes.
RGB LED Indicator: can be programmed freely to set the color of the RGB indicator, making Codey Rocky even more fun and expressive.
Voice sensor: detects ambient and motion sound levels.
Light sensor: detects the intensity of ambient light.
Buttons: are all programmable for customization.
Color Infrared Sensor: detects colors, avoids obstacles, calculate distance and enables cruising.
Wikipedia
All rights reserved © 2018 Electrónica Embajadores
Makeblock Codey Rocky - Educational Robot - P1030069 ("P1030069", "P1030069")
P1030069, P1030069, arduino, pololu sumo, pololu, makeblock, velleman allbot, robot, robotics, chassis & robots, Shopping chassis & robots, Buying chassis & robots, chassis & robots Shop, chassis & robots Seller, Buy chassis & robots, makebloc robotics, pololu, …, Shopping makebloc robotics, pololu, …, Buying makebloc robotics, pololu, …, makebloc robotics, pololu, … Shop, makebloc robotics, pololu, … Seller, Buy makebloc robotics, pololu, …
Cookies privacy
We use own and third party cookies to facilitate navigation. By continuing with navigation we understand that our
COVID-19
WE OPEN THE PHYSICAL STORE ON MAY 11
Phase 0: We have decided to reopen taking all security measures. The customer service hours will be normal. You can check here.
The maximum capacity in the premises is 6 people, groups of 2 or more people are not allowed.
A maximum of 3 public service posts are set, with 2 m of separation between them and there are separation with the public, an ozone generation team, all our operators will wear safety PPE and the use of hydroalcoholic gel is offered at the entrance of the premises. It is recommended that they come with mask protection and gloves. Self-service is not allowed: NO SELF-SERVICE

Cookies policy.