Appa 67 - Digital Multimeter
Ref. INHA667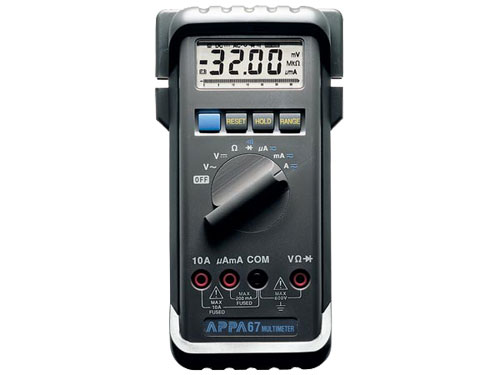 Available
Features
3200 count digital display
65 segment analogue bargraph
autoranging and manual selection
600V protection in non-current ranges
Beep Guard™ warning system
auto power-off
fast continuity beeper (0.2 millisec)
diode test
display-hold function
MagiHolster™
Important safety information
Specifications
DC voltage: 300.0mV ~ 600V
basic accuracy: ±(0.7%+2d)
resolution: 0.1mV
AC voltage: 3.000V ~ 600V
basic accuracy: ±(1.7%+5d) @ 40Hz ~ 500Hz
resolution: 1mV
frequency range: -
DC Current: 300.0µA ~ 20.00A
basic accuracy: ±(1.2%+2d) basic, ±(2.5%+5d) @ > 300mA
resolution: 0.1µA
AC Current: 300.0µA ~ 20.00A
basic accuracy: ±(1.7%+4d) basic, ±(2.9%+7d) > 300mA
resolution: 0.1µA
resistance: 300.0Ω ~ 30.00MΩ
basic accuracy: 300Ω ±(1.2%+4d) / 3KΩ ~ 300KΩ ±(0.9%+2d) / 3MΩ ±(1.2%+3d) / 30MΩ ±(2.5%+5d)
resolution: 0.1Ω
capacitance: -
frequency: -
basis accuracy: -
resolution: -
temperature: -
basic accuracy: -
resolution: -
overrange: ✓ "1" or "-1"
continuity buzzer: ✓
transistor test: ✗
diode test: ✓ open circuit voltage 3.3V max.
low-battery indication: ✓
ranging mode: manual or automatic
data hold: ✓
backlight: ✗
dimensions: 85 x 165 x 40 mm (with holster)
weight (with battery): ±360g (with holster)
power supply: 2 x 1.5V AAA battery LR03C (incl.)
accessories: protective holster / test leads / ZnC battery (installed) / manual
auto power-off: ±30 min
Wikipedia
All rights reserved © 2018 Electrónica Embajadores
Appa 67 - Digital Multimeter ("tester","TESTER","multimetro";"multímetro","multitester","MULTITESTER","POLIMETRO","polimetro","polímetro","appa67","APPA67")
tester,TESTER,multimetro,multímetro,multitester,MULTITESTER,POLIMETRO,polimetro,polímetro,appa67,APPA67, multimeters, Shopping multimeters, Buying multimeters, multimeters Shop, multimeters Seller, Buy multimeters, measurement equipments, Shopping measurement equipments, Buying measurement equipments, measurement equipments Shop, measurement equipments Seller, Buy measurement equipments
Cookies privacy
We use own and third party cookies to facilitate navigation. By continuing with navigation we understand that our
COVID-19
WE OPEN THE PHYSICAL STORE ON MAY 11
Phase 0: We have decided to reopen taking all security measures. The customer service hours will be normal. You can check here.
The maximum capacity in the premises is 6 people, groups of 2 or more people are not allowed.
A maximum of 3 public service posts are set, with 2 m of separation between them and there are separation with the public, an ozone generation team, all our operators will wear safety PPE and the use of hydroalcoholic gel is offered at the entrance of the premises. It is recommended that they come with mask protection and gloves. Self-service is not allowed: NO SELF-SERVICE

Cookies policy.