PeakTech 5615 - IR-Thermal Imaging Camera - 160 x 120 px -20ºC .. 550ºC - P 5615
Ref. IN3A612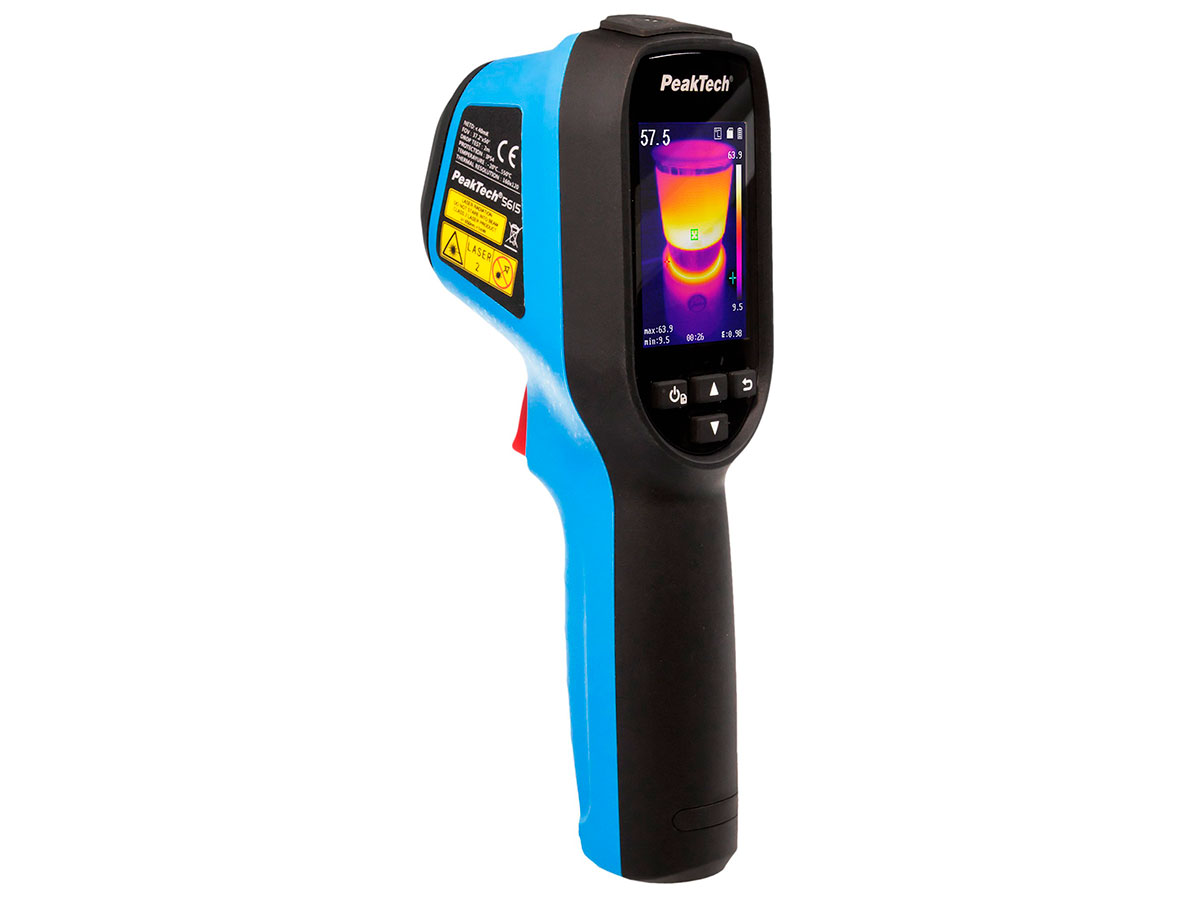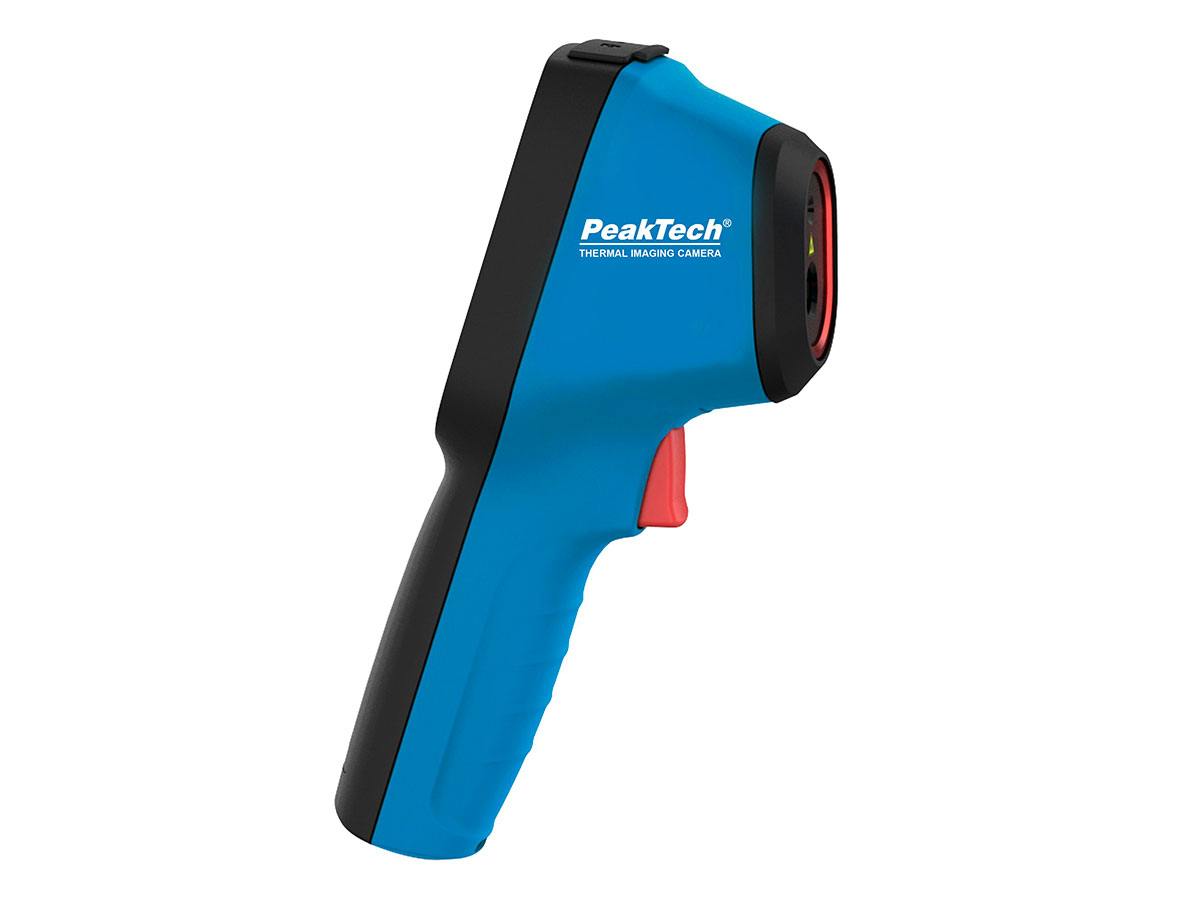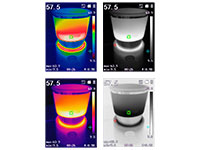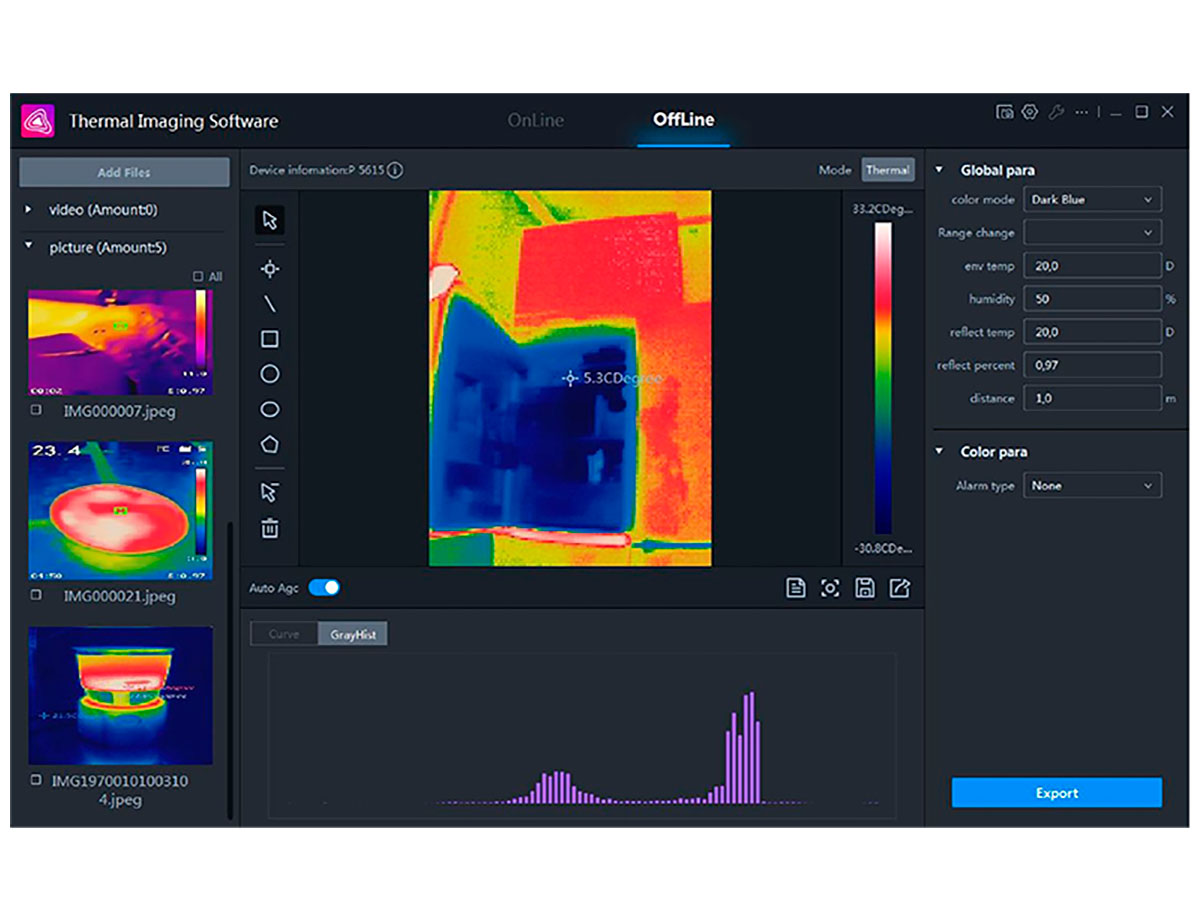 Product available with delivery time exceeding the standard.
Features
The PeakTech 5615 is a complete thermal imaging camera with a thermal resolution of 160x120 thermal imaging dots and a high-quality sensor, which makes even the smallest temperature differences visible.

All thermal images can be opened and evaluated using the accompanying software, with subsequent changes, e.g. Eg it can be done in the pallet selection.

Use this new development, p. Eg to find thermal bridges in thermography, leaks in pipe systems and systems, or trace heating pipes in walls and floors.

In electrical engineering, this thermal imaging camera offers the possibility of contact problems and contact resistances, e.g. Eg that are in sub-distributions and thus prevent a fire risk in time.
Modern IR Thermal Imaging Technology
2.4 "color LCD screen and graphical menu navigation
Thermal image resolution of 160 x 120 pixels
High temperature measurement range up to + 550 ° C
High-quality thermal image sensor with sensitivity at high temperatures
Fast thermal imaging with 25 Hz
Four color palettes (iron, rainbow, white, black)
Crosshair as well as hot and cold spot display
Minimum and maximum value display
Photo recording with internal memory
Records with documentation of date and time
USB interface for data transfer
Also suitable for longer ranges (eg building thermography)
IP 54 protected against dust and splashes of water
Accessories: USB cable, software, charger and user manual
Specifications
Thermal resolution 160 x 120 pixels
Temperature range -20 ° C ... 550 ° C / -4 ° F ... 1022 ° F; Resolution 0.1 °
Accuracy +/- 2% +/- 2 ° C
Display: 2.4 "
• Thermal sensitivity: less than 40 mK
Wavelength 8 ... 14 µm
Emissivity 0.01 ~ 1.0
Image frequency 25 Hz
Internal storage: Micro SD - 8 GByte
USB data interface
Operating voltage 3350 mAh / 3.6 V Li-Ion
Dimensions (WxHxD) 59 x 196 x 78 mm
Weight approx. 350 g
Wikipedia
All rights reserved © 2018 Electrónica Embajadores
PeakTech 5615 - IR-Thermal Imaging Camera - 160 x 120 px -20ºC .. 550ºC - P 5615 ("P 5615", "flir","flick")
P 5615, flir,flick, thermographic cameras, Shopping thermographic cameras, Buying thermographic cameras, thermographic cameras Shop, thermographic cameras Seller, Buy thermographic cameras, measurement equipments, Shopping measurement equipments, Buying measurement equipments, measurement equipments Shop, measurement equipments Seller, Buy measurement equipments
Cookies privacy
We use own and third party cookies to facilitate navigation. By continuing with navigation we understand that our
COVID-19
WE OPEN THE PHYSICAL STORE ON MAY 11
Phase 0: We have decided to reopen taking all security measures. The customer service hours will be normal. You can check here.
The maximum capacity in the premises is 6 people, groups of 2 or more people are not allowed.
A maximum of 3 public service posts are set, with 2 m of separation between them and there are separation with the public, an ozone generation team, all our operators will wear safety PPE and the use of hydroalcoholic gel is offered at the entrance of the premises. It is recommended that they come with mask protection and gloves. Self-service is not allowed: NO SELF-SERVICE

Cookies policy.